Available for IOS and Android devices
Quickly locating an asset is now easier than ever with the telematics.guru App. Log in on any Apple or Android device and use the live tracking facility with detailed vehicle information overlaid
Easily select an Asset from the List
The Telematics.guru App makes it simpler than ever to see where all of your assets are located or travelling in a single glance.  Click on an asset to see the live view screen for an individual asset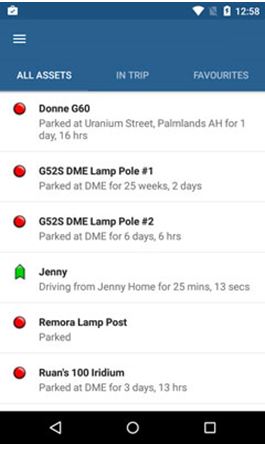 Live tracking with the power of Google maps
Easily switch to satellite view to get a better understanding of where your assets are. Watch your assets travel in real time on satellite imagery
Movement Alert … Simple to set
Want to know when your vehicle or asset moves? Easily set a movement alert from the App and receive notifications if any movement is detected.
Recover a lost, stolen or misplaced asset
Easily activate Recovery Mode from the App on trackers that are configured to only deliver daily updates for assets that have gone missing!  The tracker will begin live tracking within the App to facilitate asset recovery.