Battery Powered Asset Tracking
Our range of world-class battery-powered asset tracking devices provides businesses and consumers detailed location information based on a range of triggers to maximise battery life. Doing this our devices can last in the field up to 10 years on a set of batteries.
Each product is fully tested before it leaves our warehouse with firmware being updated over the air when required. Our units are pre-configured with a range of options, including the frequency of location updates. Our devices are intelligent and can be configured to a client's specific needs.
Simply Unified Advanced AVL Mapping
Our AVL mapping is one of the world's most advanced and feature-packed mapping systems available. Our mapping platform features the very latest Google map sets with the ability for our clients to upload custom maps, for example, Arial mine view, Utilities, and even proposed developments. Access all devices from any Desktop, tablet or Via our smartphone App with internet browser capabilities from anywhere in the world.
Shop online with complete peace of mind. Our products are supported by a 14-day no-quibble money back guarantee, free shipping and a continues product warranty as part of our competitive monthly or annual service plans 
uP TO 10 YEAR BATTERY LIFE
Battery technology and battery management have seen massive improvements recently. Using our cutting edge technology, we can deliver up to 10 years of battery life.

Cold-chain compliance is made easy with our temperature monitoring solution. Temperature recording, along with GPS Data, is continuously recorded. Should the temperature of the cargo exceed operating conditions, immediate alerts are generated.
THEFT PROTECTION AND RECOVERY
In Australia, hundreds of vehicles, boats, bikes, caravans and other valuable assets are stolen every single day.
CCTV cameras are great, to a point.  Using a quality GPS Tracking system from Simply Unified will give you far more information and should the worst happen, you'll stand a real chance of getting your gear back.

Our devices are rated to IP68 and IP68 to deliver a tracking solution suitable to be used externally. For example a trailer, container or lighting tower.
Several of our battery-powered asset tracking devices can monitor and report on run hours, raising automated alerts when a service becomes due.

Keep track of livestock movement with our range of cellular and satellite based waterproof tracking devices.

A GPS Tracking System from Simply Unified provides the ability to monitor and report on all aspects of vehicle activity. Information includes location, speed and heading, along with driver behaviour and stop location and time. 

Choose from a range of business- grade report templates or even customise your own. All reports are available in several formats, including PDF, Excel, and Word.
Our Geofencing system provides automated alerts for all types of activity within a Geofence, including entry, exit, designated speed along with action from external inputs, for example, PTO activated.
Intuitive and easy to use
Intuitive and easy to use
What you see is what you get. Click on the icon, get that information. No searching around hidden menus and confusing techno-babble set-up screens.
So user-friendly and intuitive that you will not need an instruction manual!
The information you need most
Simply Unified GPS Tracking Software has been carefully designed to deliver the information you need most when you need it. Unlike other platforms you wont be bombarded with meaningless mounds of telemetry data!  Only useful, visual and meaningful graphic map displays, events & alerts, and excel based reports.
Get the information you need to drive efficiency, productivity and safety.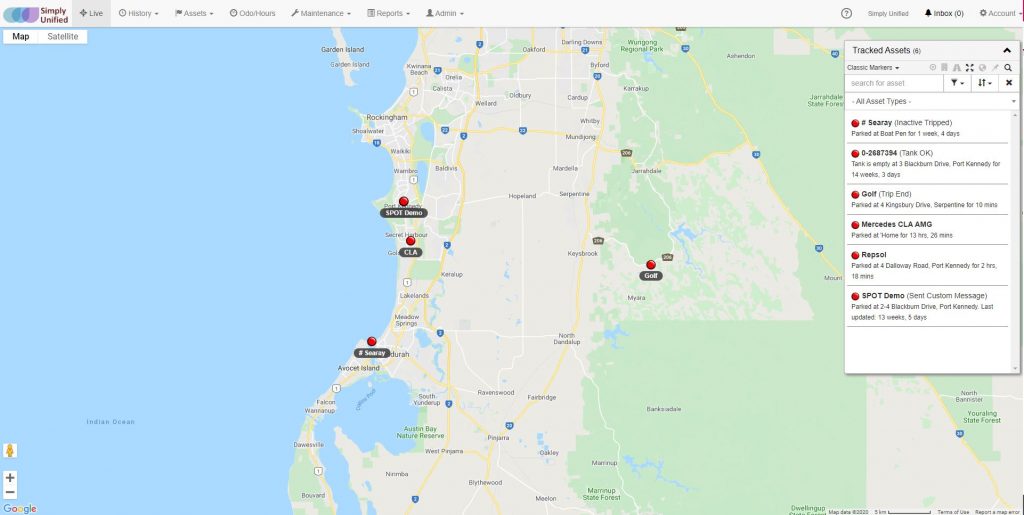 Touch friendly live view screen
As the world becomes more mobile, touch friendly, browser based responsive software is becoming the new gold standard, a standard which Simply Unified meets and exceeds
With Simply Unified GPS Tracking Software you can do everything on your mobile device that you would normally do at your desktop!
Conveniently reports in Excel
In addition to pdf and html, Simply Unified GPS Tracking Software offers extensive Excel based reports, with pivot tables embedded for data manipulation. Save your favourite reports, configure your own report formats and even preview them on screen before downloading.
No queuing, processing or waiting, just click and open!
Timeline feature highlights events & incidents
The Timeline feature is an exciting innovation unique to Simply Unified. Events, alerts and activities are recorded in the Timeline creating an instantaneous visual overview of a vehicle or assets activity.
Use the Timeline to quickly understand milestones and incidents.
Manage Trips as business vs. personal
…or set your own trip categorization criteria. Set custom categories for trips e.g. sales, quotes, service, deliveries etc.
Easily create logbooks, business travel reports, customer service reports or any other output.
Geofencing
Quickly set geofences in order to raise alerts or record time devices arrive, leave or remain in a specified area.
The are no limits tot the number of geofences permitted.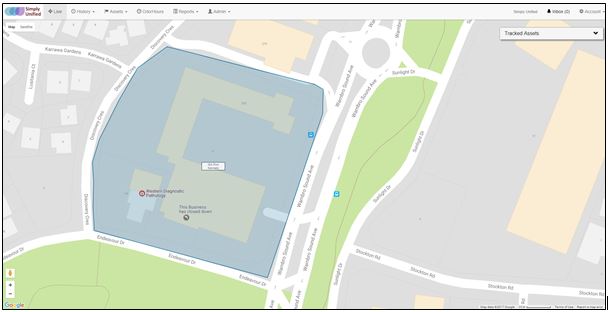 Available for IOS and Android devices
Quickly locating an asset is now easier than ever with the telematics.guru App. Log in on any Apple or Android device and use the live tracking facility with detailed vehicle information overlaid.
Easily select an Asset from the List
The Telematics.guru App makes it simpler than ever to see where all of your assets are located or travelling in a single glance.  Click on an asset to see the live view screen for an individual asset.
Live tracking with the power of Google maps
Easily switch to satellite view to get a better understanding of where your assets are. Watch your assets travel in real time on satellite imagery.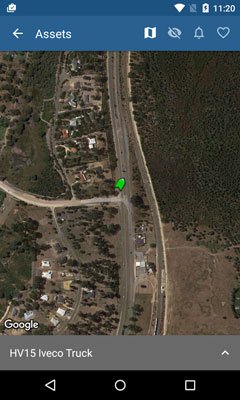 Movement Alert … Simple to set
Want to know when your vehicle or asset moves? Easily set a movement alert from the App and receive notifications if any movement is detected.
Recover a lost, stolen or misplaced asset
Easily activate Recovery Mode from the App on trackers that are configured to only deliver daily updates for assets that have gone missing!  The tracker will begin live tracking within the App to facilitate asset recovery.